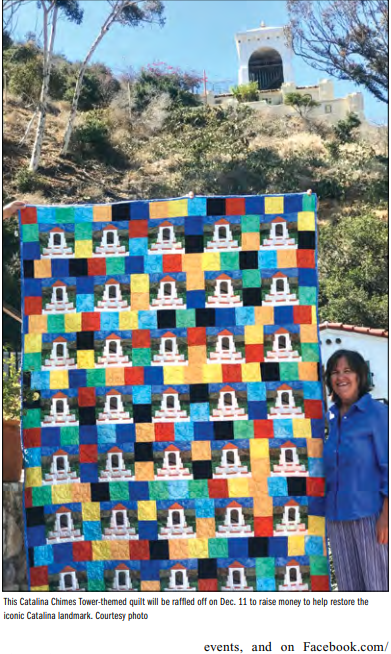 FOR THE ISLANDER
The Catalina Chimes Tower Foundation thanks artist Paris Rebl for her generous contribution of a beautiful hand-sewn quilt for a Dec. 11 raffle in support
of the Chimes Tower restoration.
This stunning one-of-a-kind quilt – featuring 25 Chimes Tower patches and musical notes – will be on display at the Shops at the Atwater arcade on select days, to be announced on the foundation website, CatalinaChimes.org/events, and on Facebook.com/CatalinaChimes. Tickets are $5 each or five or $20, and are available to purchase three ways: on the foundation website or Facebook page until midnight on Dec. 10; at the Catalina Island Company corporate
offices reception desk until 2p.m. on Dec. 11; or directly from a foundation board member.
The drawing will be held on Dec. 11 at 3 p.m. at the Shops at the Atwater arcade. The winner does not have to be present to win. For more information, email info@CatalinaChimes.org.
Philip James Hosking
Dec. 17, 1940 – Sept. 4, 2018
Phil, 77, was born in Southern California where he developed a love for the ocean as he grew up surfing at the beach. He graduated from Mira Costa High School in Manhattan Beach, CA, in 1958. After graduation he enlisted in the U.S. Coast Guard where he served as an engineman until his discharge in 1962. He worked in the non-ferrous metal business in Los Angeles before settling in Reno in the 1960s. It was in Reno where he began a career as a mortgage and real estate
professional that spanned over 50 years. He and Judith "Judy" Phair (passed 2011) shared homes in Reno and Catalina Island. He was able to continue his love of the outdoors and the ocean on Catalina Island. He is survived by his daughter.
Dr. Stacy Hosking and her husband Joseph Robert of Reno, as well as many close friends and colleagues. His wisdom, counsel and humor will be sorely missed. No services will be held.